Excavation-1997
---
The archaeology summer excavation on the Voznesenskii Monastery.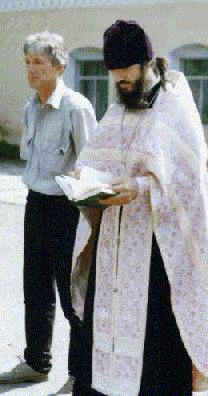 The summer excavation began on the 10th of June and finished on the 1st of July. There were 40 students from Irkutsk schools and our club 'Fort Ross' (on the photo).
It was a wonderful work and all of us enjoyed it very much because we had a very interesting cultural and educational program for children. We had 4 main fields of excavation ( you can see two of them on the photos below).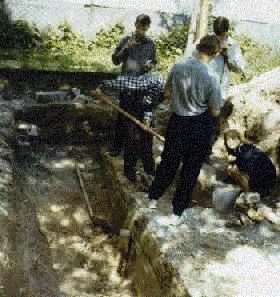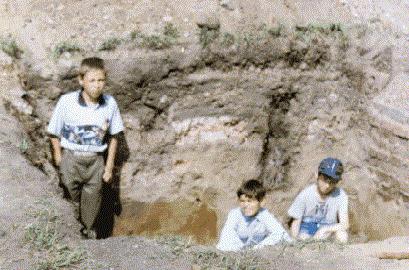 And we had a lot of excursions for children (one of them - the festival in the architectural-ethnographical museum "Taltsi".
Next summer we are going to continue the archaeological work because we found some interesting things: old nails, metal things used for attaching in building.
But the main thing was the wall we have found. It'll help us and the scientists to make a plan of the construction of the Monastery. The bricks for this wall were handy-made. There is a special sign on the brick - in the form of a key. On some of them it was a step of a dog (dog's step). All these things made us think that we are on the a right way.
The history of the Voznesenskii (or Ascension) Monastery is very reach and significant. It was one of the beautiful artistic monuments of Eastern Siberia. The first wooden building of Monastery was founded on 1672. Then it was modified and there were 4 Churches, one Chapel and many official buildings (this photo below is the model of the Monastery).
It was the place where St. Innocent's relics were kept: there was the sepulcher of the Bishop of Irkutsk Innocent Kulchitskii (16.. -1731) in the Cathedral of St. Innocent. So the first educational establishment was founded way back in 1725 at the Ascension Monastery for children of the clergy. Now there are only the remains of one of the Churches.