Masha Barsukova
---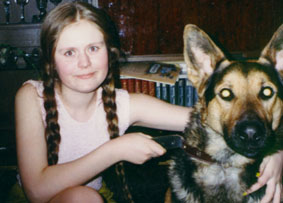 Hello, my name is Mariya.
I am fifteen years old. My birthday at 30th of December, under New Year. I am learning in 9th grade of normal Russia school. I study excellently, but i don't think, that I'm very clever and know more than another students.
I live, how you know, in Irkutsk - a historical center of Siberia. Irkutsk is very beautiful town in the East Siberia, near the famous Lake Baikal.I like history very much and that is why I'm a member of club "Fort Ross".
Some words about my appearance. I have a blue eyes, very long blond hair.I'm not tall (161 cm) and my weight is 51kg. I'm exciting about orange. I like this color. I love pets, especially big dogs. I have a dog, it's name is "Baby", but it's very big and wicked. And I've a cat, it's name is "Red". They live in the country in summer.
I hate people, who aren't punctual and are liars. I also dislike people, if they aren't neatly and are big egoists, who think only about themselves. I have many familiars and few friends. I want have some new friends and hope, that you become one of them.